I'd like to say, "Well, THAT'S over," in regards to the fleas and scorpions and my cat being old/sick and whatnot, but we still have some things to work on.
For one thing, the exterminator is coming back for a follow-up in two weeks. I'll have to schedule this AND put the animals in boarding for the day (again!)
You know what's so funny? I have been feeling a little Mr. Mom-ish with everything happening at the house. I love that vacuum scene in Mr. Mom. (Oh, and there's the "ex-term-in-ay-TOHR" knocking at the door.)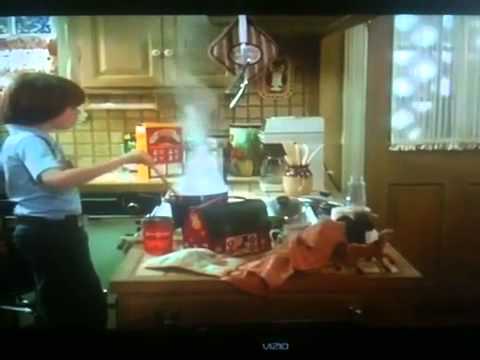 Anyway… Animals, plural? Yes. In the next couple of weeks, we'll have a new addition to the family: my dad's dog, Charley. Since Dad died, and David is "down-sizing," I couldn't let him give Charley to some random family. I know he would find a good home for Charley, but–dang it–Charley is a GOOD dog. He is highly trained, and…well, he's Dad's dog. He's not leaving this family, period.
Tiki is going to pretty damn upset. That's the only way I can put it. LOL!!! Tiki is not a fan of other animals. When my 1,000-lb cat, Vincent, was alive he was friends with Tiki. I believe it is because Vincent could squash Tiki without a second thought.
ha! Ah…mem'ries…
Other than that, Mr. T is the head of the household. It's a good thing that Charley is super mellow. He'll just find a spot and stay out of Tiki's way. Poor Charley–I love that dog. I'm also going to do what I can to make sure he is happy, too. Lots of visits to dog parks (thank goodness Austin is FULL of them!) and just taking Charley with me anywhere I can. He loves to ride in the car!
In another month, Tiki will have a follow-up visit with the vet, and I will also have to find a vet & get flea treatment for Charley ASAP. I have a whole shite-load of other stuff to do around the house, not to mention playing Mom's Taxi Service with Ilona's activities this summer, camps, swimming, and whatnot.
AND, I am thinking about starting up a new garden patch at Sunshine Community Garden again (after being kicked out last summer. Hmm…I'll have to re-think this.) Apparently, they have a couple of spots available, and I am at the top of the waiting list.
With all this craziness happening, I am working on having a more regimented life.
For example, I warned Ilona that I am going to be a hardass on her for 4th grade. I'm not going to have any more of these crazy grades she got in 3rd grade. So, I already have her doing a minimum of two pages in FOUR DIFFERENT workbooks each day, AND reading a minimum of 1 book per week this summer.
The TAG kids at school read all the books on the Texas Bluebonnet Award Master List. Just because Ilona is not in TAG doesn't mean she can't read everything on the list, too. So, she is starting with Like Pickle Juice on a Cookie. Cute or what?
As far as being more regimented, it's good to have Tiki (who can only eat a certain kind of canned food–no dry–and needs meds,) and Charley (who needs to be walked on schedule, etc.) It makes me feel motivated to keep the house cleaner and more organized.
I'm also ready to have a nice bulletin board with school updates, calendars, etc, etc. I previously thought I could just keep track of everything myself online or with just my iPhone. Now I see how important it is to have a central spot for everyone to see and have a spot for all the crazy paperwork the school sends home.
It also helps that I now have a little child labor going on in the house. ROFL!!!!! I have really been getting Ilona to help with things (not too complicated–mostly recycling, and stuff like that,) but I promised to show her how to wash clothes this summer. ZOMG!!! My own personal laundry maid!! YES!!!! hahahahaha!